Specific Private-Legal Aspects of the Blockchain System Functioning
Keywords:
Keywords: Blockchain, Distributed Ledger Technologies, endogenous problems, bona fide purchaser, cryptography, private key, irreversibility of transactions, property, public key, hash.
Abstract
In the 21st century, humanity is facing a fourth - technological revolution, characterized by an amazing pace and scale of development of digital technology. The cause of this revolution is blockchain technology, one of the most relevant, discussed and promising systems today, which is also becoming the basis of the new digital economy.
The goal of the work is to introduce the essence and structure of the blockchain technology to readers, to analyze the blockchain system in the private-legal context, to discuss private-legal endogenous and exogenous problems reasoned by DLT implemented transactions, to contradict the autonomy of the blockchain system with national legislation, to offer legislative alternative for legal regulation of the blockchain system, to define the necessity for symbiotic coexistence of technologies and the Law and to offer the ways for finding the compromises needed for such coexistence.
References
Hague Convention on the Law Applicable to Certain Rights in Respect of Securities Held with an Intermediary Art, 05/06/2006.
Abramowicz M., Cryptocurrency-Based Law, USA, 2016, 414.
Anitei A. C., Digital Inheritance: Problems, Cases and Solutions, International Conference Education and Creativity for a Knowledge-Based Society, 2017, 32.
Agrawal H., How Long Does It Take to Transfer Bitcoins and Why?, Coinsutra, 2019, <https://coinsutra.com/bitcoin-transfer-time/> [25.12.2021].
Bayer D., Haber S., Stornetta W. S., How to time-stamp a digital document, Journal of Cryptology, № 3, 1991, 99–111.
Bayer D., Haber S., Stornetta W. S., Improving the Efficiency and Reliability of Digital Time-Stamping, 1992, 325, 329–334.
Bayern S., Dynamic Common Law and Technological Change: The Classification of Bitcoin, USA, 2014, 22, 29.
Buterin V., Bitcoin Network Shaken by Blockchain Fork, USA, 2013, 7.
Cahn N., Probate Law Meets the Digital Age, USA, 2014, 67.
Campbell B. H., A Treatise on the Law and Practice of Bankruptcy: The Act of Congress of 1998 and its Amendments, 3rd ed., Kansas City 1922, 4.
Rose C. M., Possession as the Origin of Property, USA, 1985, 84-85.
Cutts T., Bitcoin Ownership and Its Impact on Fungibility, USA, 2015, 23.
De Filippi P., Mcmullen G., Governance of Blockchain Systems: Governance of and by Distributed Infrastructure, USA, 2018, 16, 24, 44.
De Waal M. J., Law of Succession, in Introduction to the Law of South Africa, 2004, 169.
Dyson H., French Property and Inheritance Law: Principles and Practice, USA, 2003, 313.
Fawcett J. C., Cheshire N. F., Private International Law, USA, 2008, 85.
Garrison J., 2 Men Arrested in Elaborate Plot to Steal $550K in Cryptocurrency by Hacking Social Media Accounts, USA Today, 2019, <https://www.usatoday.com/story/news/nation/2019/11/15/massachusetts-men-arrested-plot-steal-cryptocurrency-bitcoin-social-media-threats/4201763002/> [24.12.2021].
Gomez E., The Ethereum Hard Fork & Ethereum Classic, USA 2016, 11.
Kekelia V., Kotrikadze G., Methods and Models of Symmetrical System of Blockchain, Book I, Tbilisi, 2016, 4 (in Georgian).
Kotrikadze K., Kipshidze D., Blockchain Technologies, as Self-Organized Systems, Tbilisi, 2019, 1-2 (in Georgian).
Low K., Teo E., Legal Risks of Owning Cryptocurrencies, Handbook of Blockchain, Digital Finance and Inclusion, USA, 2018, 47.
Lansiti M., Lakhani K. R., The Truth About Blockchain, Harvard Business Review, Januar-February, 2017, 1.
Lessig L., Code is Law, USA, 2000, 4-6.
Lessig L., Code: Version 2.0, USA, 2006, 1-8.
Levy S., Crypto: How the Code Rebels Beat the Government Saving Privacy in the Digital Age, USA, 2001, 78-79.
Mcgovern Jr. W., Kurtz S., Eenglish D. M., Wills, Trusts and Estates, Including Taxation and Future Interests, USA, 2010, 57.
Meiklejohn S., A Fistful of Bitcoins: Characterizing Payments Among Men with No Names, IMC'13 – Proceedings of the 13th Conference on Internet Measurement, USA, 2013, 127.
Miranda C., How to Avoid a Bitcoin Blackmail Scam, USA, 2018, 8.
Nakamoto N., Bitcoin: A Peer-to-Peer Electronic Cash System, Decentralized Business Review, October, 2008, 1-3, 8.
Siraj R., What Is a Decentralized Application, USA, 2016, 1-2.
Tu K., Perfecting Bitcoin, USA, 2017, 505, 548.
Raskin M. I, Realm of the Coin: Bitcoin and Civil Procedure, Fordham Journal of Corporate & Financial Law, Vol. 20, Issue 4, 2015, 969, 975.
Weintraub J., Functional Developments in Choice of Law for Contracts, Germany, 1984, 239, 271.
Wright A., De Filippi P., Decentralized Blockchain Technology and the Rise of Lex Cryptographia, USA, 2015, 37, 45, 48.
Zaytoun H., Cyber Pickpockets: Blockchain, Cryptocurrency, and the Law of Theft, USA, 2019, 395, 401.
Case of Miller v. Race, England, 1758.
HashFast Technologies LLC v. Lowe, (2016), 307 US 25.
[26.12.2021].
<https://www.investopedia.com/terms/g/genesis-block.asp> [04.02.2022].
<https://www.bbc.com/news/technology-56371912> [04.02.2022].
<https://www.gemini.com/cryptopedia/public-private-keys-cryptography#section-what-is-public-key-cryptography> [04.02.2022].
<https://www.statista.com/statistics/730806/daily-number-of-bitcoin-transactions/> [26.12.2021].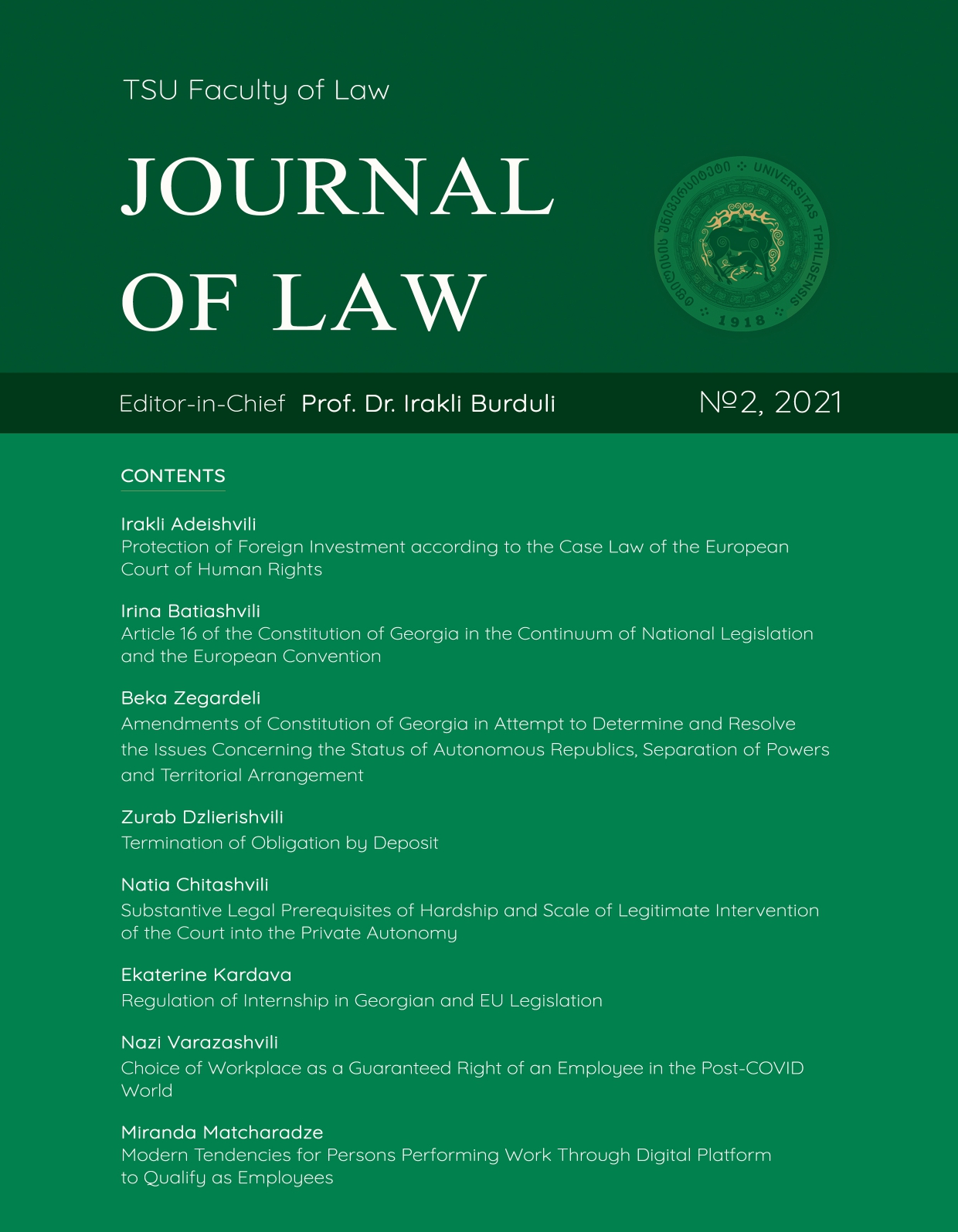 Downloads
How to Cite
ჩილაჩავა მ. (2021). Specific Private-Legal Aspects of the Blockchain System Functioning. Journal of Law, (2), 180–194(GEO),165. Retrieved from https://jlaw.tsu.ge/index.php/JLaw/article/view/3627
License
This work is licensed under a Creative Commons Attribution-NonCommercial-NoDerivatives 4.0 International License.