Choice of Workplace as a Guaranteed Right of an Employee in the Post-COVID World
Keywords:
Employment Law, Pandemic, Distance Work, Workplace
Abstract
Due to the COVID-19 pandemic, humanity has been forced to reduce the instances of leaving one's home. This has caused a number of employees to commence fulfilling their employment obligations via distance work, a development that, many feel, has been a positive for them. At the same time, a position has emerged, that the chance for the employees to work from home has not, in fact, adversely impacted the employers in a significant way. In light of this, the discussion that has begun heating up is whether it would be beneficial to keep such a status-quo even after the pandemic has subsided.
The present article discusses exactly such a possibility. It considers ensuring a guaranteed right for the employee to work from home (or any different locale of their choice). With such a change in place, it may indeed become possible to retain a rare positive aspect of the pandemic and to make a step in the right direction, in the pursuit of better regulation for employment relationships.
The primary subject studied by the article at hand is that of regulating distance work, as well as the associated matters thereto, such as employee rights and contract autonomy.
References
Organic Law of Georgia Georgian Labor Code, 4113-RS, 17/12/2010.
Agostino D., Arnaboldi M., Lema M. D., New Development: COVID-19 as an Accelerator of Digital Transformation in Public Service Delivery, Public Money & Management, № 41(1), 2021, 69-72.
Alexander C. S., Prasad A., Bottom-Up Workplace Law Enforcement: An Empirical Analysis, Indiana Law Journal, № 89, 2014, 1069-1131.
Ammons S. K., Markham W. T., Working at Home: Experiences of Skilled White Collar Workers, Sociological Spectrum, № 24(2), 2010, 191-238.
Bagenstos S. R., The Future of Disability Law, Yale Law Journal, № 114, 2004, 1-84.
Baldwin C., Boothroyd I., Ross H., Convergence and Divergence: Environmental Implications of a Most Unusual Year, Australasian Journal of Environmental Management, № 27(4), 2020, 345-350.
Beland D., Marier P., COVID-19 and Long-Term Care Policy for Older People in Canada, Journal of Aging & Social Policy, № 32(4), 2020, 358-364.
Bomball P., Statutory Norms and Common Law Concepts in the Characterization of Contracts for the Performance of Work, Melbourne University Law Review, № 42(2), 2019, 370-405.
Bonaccio S., Connely C. E., Gellatly I. R., Jetha A., Ginis K. A. M., The Participation of People with Disabilities in the Workplace Across the Employment Cycle: Employer Concerns and Research Evidence, Journal of Business and Psychology, № 35, 2020, 135-158.
Botero J. C., Djankov S., La Porta R., Lopes-de-Silanes F., Shleifer A., The Regulation of Labor, The Quarterly Journal of Economics, № 119(4), 2004, 1339-1382.
Butterfield T. M., Ramseur J. H., Research and Case Study Findings in the Area of Workplace Accommodations Including Provisions for Assistive Technology: A Literature Review, Technology and Disability, № 16(4), 2004, 201-210.
Cooke F. L., Earnshaw J., Marchington M., Rubery J., For Better and for Worse? Transfer of Undertaking and the Reshaping of Employment Relations, The International Journal of Human Resource Management, № 15(2), 2004, 276-294.
Cranwell-Ward J., Abbey A., Organizational Stress, Palgrave McMillan Publishing, New York, USA, 2005, 47-93.
Daniel M., Protecting Workers' Rights in a Labour Environment Dominated by Nonstandard Work Arrangements and Unfair Labour Practices: An Empirical Study of Nigeria, International Journal of Interdisciplinary Research and Innovations, № 3(1), 2015, 65-83.
Danielsson C. B., Bodin L., Office Type in Relation to Health, Well-Being, and Job Satisfaction Among Employees, Environment and Behavior, № 40(5), 2008, 636-668.
Darian-Smith E., The Crisis in Legal Education: Embracing Ethnographic Approaches to Law, Transnational Legal Theory, № 7(2), 2016, 1-29.
Eller K. H., Comparative Genealogies of "Contract and Society", German Law Journal, № 21(7), 2020, 1393-1410.
Felstead A., Henseke G., Assessing the Growth of Remote Working and its Consequences for Effort, Well-Being and Work-Life Balance, New Technology, Work and Employment, № 32(3), 2017, 195-212.
Fleetwood S., Why Work-Life Balance Now?, The International Journal of Human Resource Management, № 18(3), 2007, 387-400.
Fonner K. L., Rollof M. E., Why Teleworkers Are More Satisfied with their Jobs than are Office-Based Workers: When Less Contact is Beneficial, Journal of Applied Communication Research, № 38(4), 2010, 336-361.
Gabryelczyk R., Has COVID-19 Accelerated Digital Transformation? Initial Lessons Learned for Public Administrations, Information Systems Management, № 37(4), 2020, 303-309.
Gelter M., Tilting the Balance between Capital and Labor? The Effects of Regulatory Arbitrage in European Corporate Law on Employees, Fordham International Law Journal, № 33(3), 2009, 792-857.
Hacker J., Brocke J. V., Handali J., Otto M., Schneider J., Virtually in This Together – How Web-Conferencing Systems Enabled a New Virtual Togetherness during the COVID-19 Crisis, European Journal of Information Systems, № 29(5), 2020, 563-584.
Hantrais L., Allin P., Kritikos M., Sogomonan M., Anand P. B., Livingstone S., Williams M., Innes M., Covid-19 and the Digital Revolution, Contemporary Social Science, № 15(5), 2020, 595-611.
Hite L. M., McDonald K. S., Careers after COVID-19: Challenges and Changes, Human Resource Development International, № 23(4), 2020, 427-437.
Hynes M., Mobility Matters: Technology, Telework, and the (Un)sustainable Consumption of Distance, National University of Ireland Publishing: Galway, Ireland, 2013, 11-30.
Johns F., Performing Party Autonomy, Law and Contemporary Problems, № 71, 2008, 243-271.
Jorbenadze S., The Concept of the Freedom of Contract, Journal of Law, № 1, 2014, 262-288 (in Georgian).
Kardava E., Development of Employment Law during the Euro-integration Processes, Journal of Law, № 1, 2016, 33-50 (in Georgian).
Kardava E., Employment Relationships between People, Journal of Law, № 2, 2013, 130-145 (in Georgian).
Kamal M. M., The Triple-Edged Sword of COVID-19: Understanding the Use of Digital Technologies and the Impact of Productive, Disruptive, and Destructive Nature of the Pandemic, Information Systems Management, № 37(4), 2020, 310-317.
Kessler L. T., Employment Discrimination and the Domino Effect, Florida State University Law Review, № 44, 2017, 261-339.
Kotera Y., Vione K. C., Psychological Impacts of the New Ways of Working (NWW): A Systematic Review, International Journal of Environmental Research and Public Health, № 17, 2020, 1-13.
Liu K., COVID-19 and the Chinese Economy: Impacts, Policy Responses and Implications International Review of Applied Economics, № 35(2), 2021, 308-330.
Livne-Ofer E., Coyle-Shapiro J. A. M., Pearce J., Eyes Wide Open: Perceived Exploitation and Its Consequences, Academy of Management Journal, № 62(6), 2019, 1989-2018.
Lord P., Changing World, Changing Work, Contemporary Social Science, Journal of the Academy of Social Sciences, № 15(4), 2020, 407-415.
Marcum T. M., Cameron E. A., Versweyveld L., Never Off the Clock: The Legal Implications of Employees' After Hours Work, Labor Law Journal, № 69(2), 2018, 73-82.
Michie J., Sheehan M., Building Back Better?, International Review of Applied Economics, № 35(2), 2021, 111-116.
Middlemiss S., Downie M., Anglo-American Comparison of Employers' Liability for Discrimination in Employment Based on Weightism, The Equal Rights Review, № 15, 2015, 87-111.
Miele M. G., Sales E., The Financial Crisis and Regulation Reform, Journal of Banking Regulation, № 12(4), 2011, 277-307.
Miller S. D., Revitalizing the FLSA, Hofstra Labor and Employment Law Journal, № 19(1), 2001, 1-124.
Nishitani Y., Party Autonomy in Contemporary Private International Law - The Hague Principles on Choice of Law and East Asia, Japanese Yearbook of International Law, № 59, 2011, 300-344.
Pertegas M., Marshall B. A., Party Autonomy and Its Limits: Convergence through the New Hague Principles on Choice of Law in International Commercial Contracts, Brooklyn Journal of International Law, № 39(3), 2014, 975-1005.
Pinna A. M., Lodi L., Trade and Global Value Chains at the Time of Covid-19, The International Spectator ― Italian Journal of International Affairs, № 56(1), 2021, 92-110.
Pipia A., Regulating Risk of Negative Outcomes during the Process of Contract Fulfillment – Approach to the Economic Analysis of Law, Journal of Law, № 2, 2018, 85-118 (in Georgian).
Rodriguez J. K., Johnstone S., Procter S., Regulation of Work and Employment: Advances, Tensions and Future Directions in Research in International and Comparative HRM, The International Journal of Human Resource Management, № 28(21), 2017, 2957-2982.
Rolfsen R., College Experiences, the Gender Pay Gap, and Men and Women's Attitudes about Gender Roles in the Workplace, Xavier Journal of Politics, № 6(1), 2015, 46-71.
Ross J., Equal Pay and Sex Discrimination Law in the UK and Europe: The Need for Coherence, Journal of Social Welfare and Family Law, № 18(2), 1996, 147-172.
Santos A., Labor Flexibility, Legal Reform and Economic Development, Virginia Journal of International Law, № 50(1), 2009, 43-106.
Schur L. A., Ameri M., Kruse D., Telework after COVID: A "Silver Lining" for Workers with Disabilities?, Journal of Occupational Rehabilitation, № 30, 2020, 521-536.
Schwartz A., Scott R. E., Contract Theory and the Limits of Contract Law, The Yale Law Journal, № 113, 2003, 541-619.
Shah H., Transition to Labor Law Reform: State-Level Initiatives & Informal Sector Labor Relations, Indian Journal of Industrial Relations, № 50(1), 2014, 33-50.
Soto-Acosta P., COVID-19 Pandemic: Shifting Digital Transformation to a High-Speed Gear, Information Systems Management, № 37(4), 2020, 260-266.
Staines G. L., Pleck J., Non-Standard Work Schedules and Family Life, Journal of Applied Psychology, № 69(3), 1984, 515-523.
Swinton K., Accommodating Equality in the Unionized Workplace, Osgoode Hall Law Journal, № 33(4), 1995, 703-747.
Tabasum S., Kurasheed M. A., Iqbal M. M., Siddiqui I. H., The Impact of Telecommuting on Job Performance, Job Satisfaction, Work Life Balance, and Mental Health of Employees in Pakistan in Covid-19: Analyzing the Moderating Effect of Training, International Journal of Management, № 12(1), 2021, 889-928.
Thornton J., Post-crisis Financial Reform: Where Do We Stand?, Journal of Financial Regulation and Compliance, № 12(4), 2011, 277-307.
Toniolo-Barrios M., Pitt L., Mindfulness and the Challenges of Working from Home in Times of Crisis, Business Horizons, № 64(2), 2021, 189-197.
Travis M. A., What a Difference a Day Makes, or Does It?, Work/Family Balance and the Four-Day Work Week, Connecticut Law Review, № 42(4), 2010, 1-44.
Travis M. A., Telecommuting: The Escher Stairway of Work/Family Conflict, Maine Law Review, № 55(1), 2002, 262-287.
Tucker P. T., Working Time, Health and Safety: A Research Synthesis Paper, Conditions of Work and employment Series, № 31, 2012, 1-68.
Verniers C., Vala J., Justifying Gender Discrimination in the Workplace: The Mediating Role of Motherhood Myths, PLOS One Journal, № 13(1), 2018, 1-23.
Waizenegger L., McKenna B., Cai W., Bendz T., An Affordance Perspective of Team Collaboration and Enforced Working from Home during COVID-19, European Journal of Information Systems, № 29(4), 2020, 429-442.
Wilkinson K., Tomlinson J., Gardiner J., The Perceived Fairness of Work–Life Balance Policies: A UK Case Study of Solo‐Living Managers and Professionals without Children, Human Resource Management Journal, № 28(2), 2018, 325-339.
Williams J. C., Bornstein S., The Evolution of "FReD": Family Responsibilities Discrimination and Developments in the Law of Stereotyping and Implicit Bias, Hastings Law Journal, № 59, 2008, 1311-1358.
Yavson R., Strategic Flexibility Analysis of HRD Research and Practice Post COVID-19 Pandemic, Human Resource Development International, № 23(4), 2020, 406-417.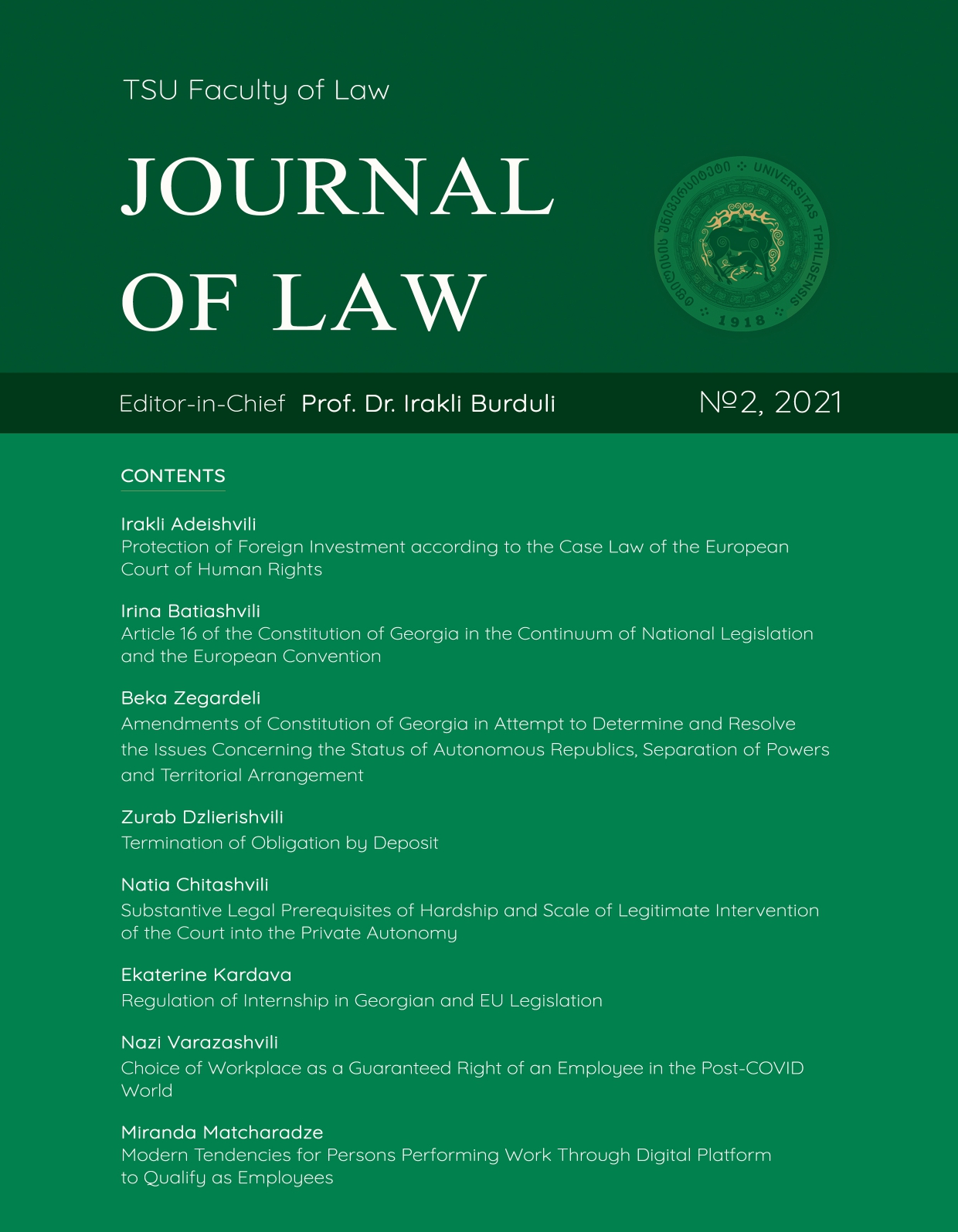 Downloads
How to Cite
Varazashvili, N. (2021). Choice of Workplace as a Guaranteed Right of an Employee in the Post-COVID World. Journal of Law, (2), 134–150 (Geo) 122. https://doi.org/10.60131/jlaw.2.2021.3626
License
Copyright (c) 2021 Nazi Varazashvili
This work is licensed under a Creative Commons Attribution-NonCommercial-NoDerivatives 4.0 International License.